CBD Cream: Soothe + Calm
Full-Spectrum CBD/CBG - 300MG
Regular price
Sale price
$60.00
Unit price
per
Sale
Sold out
Soothe + Calm is a whipped body cream packed with 300MG of full spectrum CBD and CBG. Nourish dry, irritated, or overworked skin with this masterful blend of soothing and deeply hydrating ingredients.
Full spectrum hemp extract and calming essential oils work together to help reduce inflammation and revitalize the skin, while shea butter, extra virgin coconut oil, and vitamin E help to moisturize, smooth, and soften the skin.
---
FEATURES & BENEFITS:
Net Weight: 1.7 oz
Qualities: Soothing & Calming
Made with

 300MG (150mg CBD + 150mg CBG) of

 

full-spectrum hemp oil extracted from cannabidiol-rich and cannabigerol-rich hemp strains.
Extraction Method: 100% Solvent-Free Pure Ice Water Extraction
Whipped formula allows for easy absorption
Ingredients

Shea Butter, Organic Extra Virgin Coconut Oil, Full Spectrum Hemp Extract in Organic MCT Oil, Aloe Vera, Glycerine, Essential Oils (Chamomile, Bergamot, Mint, Ylang-Ylang, Peru Balsam, Camphor, Marjoram, Copaiba, Clary Sage, Lavender, Sandalwood) and Vitamin E
How to Use

Apply topically to the targeted area. Massage into skin for therapeutic benefits.

For external use only. Avoid contact with open wounds. Patch test before use for sensitive skin. Keep out of reach of children. Avoid while pregnant or nursing.
Disclaimer

* These statements have not been evaluated by the Food and Drug Administration. This product is not intended to diagnose, treat, or prevent disease.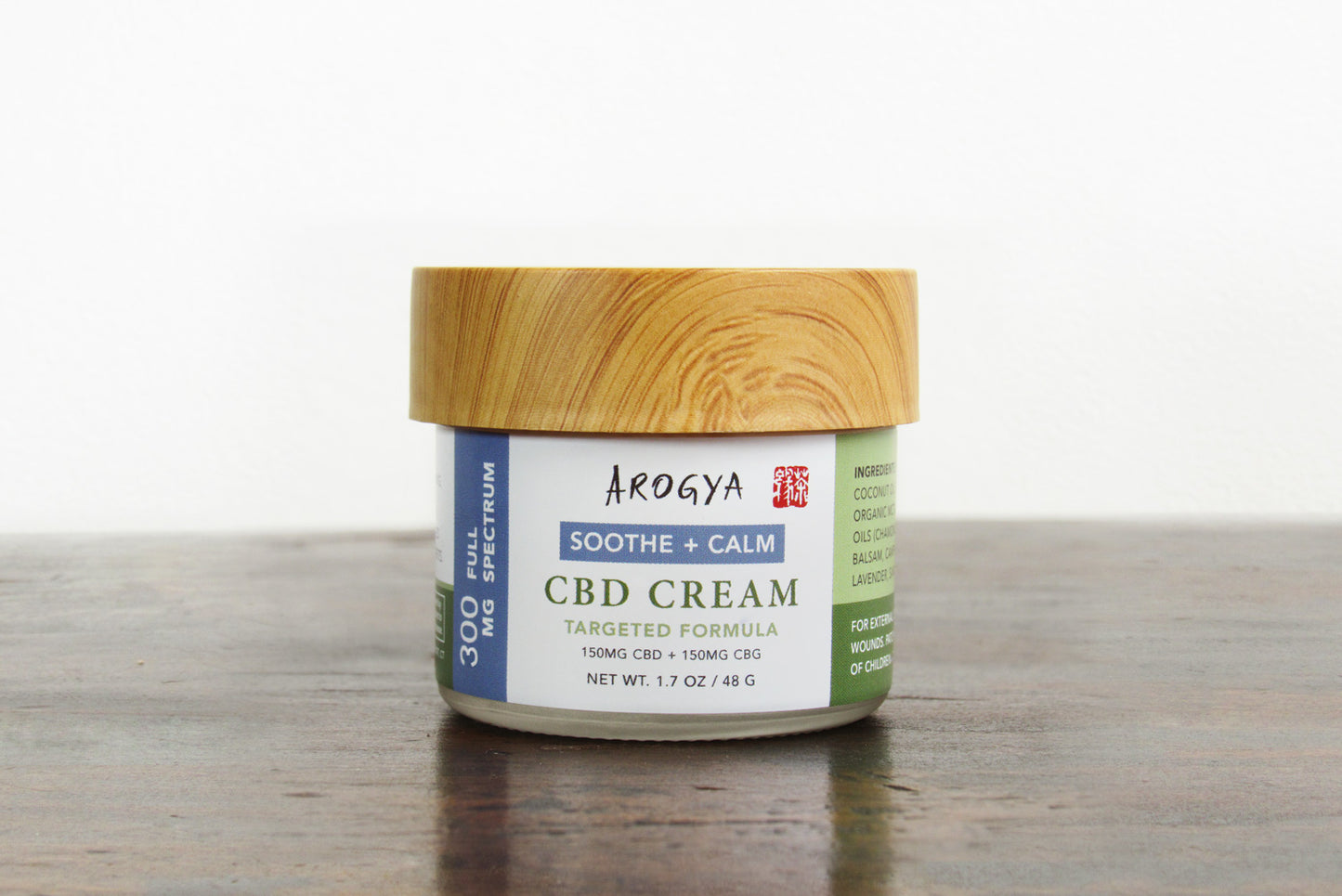 About CBD Soothe + Calm
Extraction & Sourcing
The full-spectrum hemp extract in our CBD cream is sourced from a Nebraska-based family farm and is extracted using a solvent-free, reverse osmosis pure ice-water extraction method. This advanced extraction process assures maximum conservation of hemp's natural terpenes and produces a high potency CBD oil.
LEARN MORE
For Best Results
• Start Low and Increase the Dose Slowly
If you're trying a new CBD product, we recommend starting with a lower dosage and slowly increasing the amount so you can see how your body responds and whether the dose is effective.
• Be Consistent
When it comes to maximizing the results of hemp-derived CBD, consistency is crucial. Taking CBD on a daily basis is recommended to help replenish cannabinoids in your body and maintain homeostasis.
• Sublingual Administration
Taking CBD oil sublingually (under your tongue) is one of the most efficient forms of CBD consumption, getting it into your bloodstream quickly and with maximum potency. Just place one serving under your tongue, hold it there for 60-90 seconds before swallowing, and let your body do the rest. Avoid touching the dropper to your mouth to preserve the quality of your CBD oil.